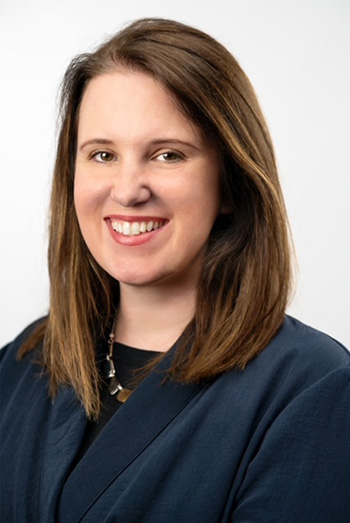 Anna Wood is Managing Director of Cambridge Online Education, a new business unit that offers a full-service provision for online education. Anna is currently focused on supporting the successful launch of an ambitious new programme of online courses for professionals, Cambridge Advance Online.
Cambridge Advance Online is a new educational initiative designed to complement the University of Cambridge's in-person courses. Our programme spearheads the creation of 50 fully online short courses across interdisciplinary areas. We are targeting an audience of professional learners who wish to study in a flexible way and with a strong focus on real-world applications. Our ambition is to broaden global access to a Cambridge education and to meet the needs of professionals and organisations around the world.
Why now? Online courses are rapidly becoming an essential part of the higher education offering. In 2019, the online degrees and short courses market was worth US $5-7Billion with online short courses growing with a compound annual growth rate of 25-40%.* Lockdown during COVID-19 accelerated this growth but it is also representative of an increasing interest in upskilling and adapting to new challenges in the workplace – and the world. Organisations must invest in workforce training to stay ahead of the curve and today's professionals are seeking flexible solutions that allow them to study on their own schedule.
Through Cambridge Advance Online we are proud to offer courses on cutting-edge topics that address known market needs. Professionals can learn directly from subject matter experts at the forefront of research and industry with live sessions and interactive learning activities. Whether they want to understand how intercultural communications foster successful business relationships, how big data can be used for decision-making, or how creativity can be harnessed to solve complex problems, all learners will finish their studies with the knowledge and skills to make positive, actionable change.
This is echoed in the feedback we have received from learners during our first round of enrolments:
"The course was exactly what I needed… I had some idea about the T-Plan but this course gave me more insights and a better understanding of the method."

"Brilliant teaching, materials and group engagement. Really enjoyable and highly recommended."

"The course was fun, challenging and it allowed me to directly apply what I had learned."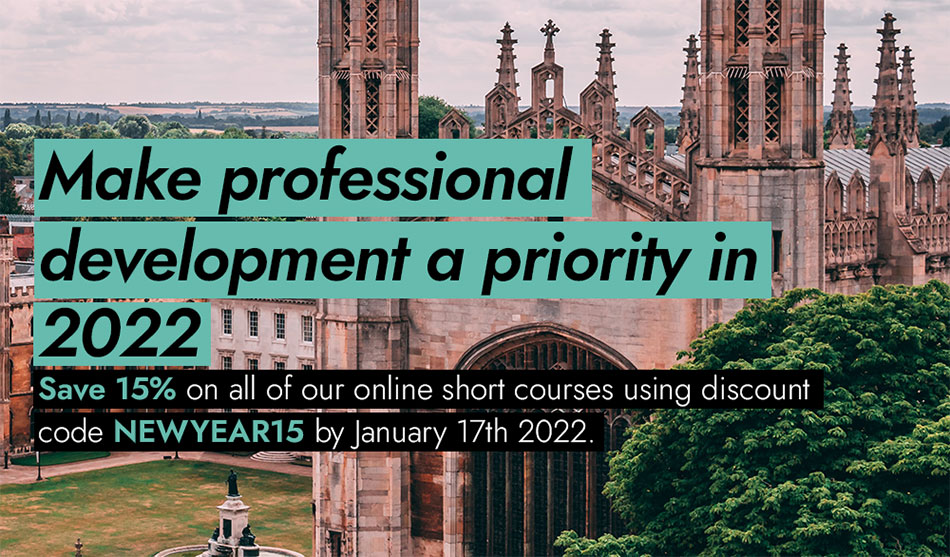 We are excited to offer professionals the opportunity to receive 15% off any of our online courses until the 17th January 2022 using discount code NEWYEAR15. Make professional development your priority this year. Browse through a selection of our courses:
Creativity, Problem Solving and Design Thinking
In recent years there has been increasing recognition of the importance of creativity in the workplace. Learn how to use creative processes and creative tools to identify problems and the solutions needed to resolve them in this 6-week course.
Intercultural Business Communication and VUCA
Intercultural competence is high on the list of skills needed in every workplace with diverse/international teams. Gain the necessary awareness, know-how and practical skills needed to become more effective at intercultural interactions in the workplace in this 8-week course.
Leveraging Big Data for Business Intelligence
Making data-driven decisions to stay ahead of the curve is imperative to the success of any business. In this 6-week course, you will learn how to understand big data, user-driven events, data science techniques and machine learning and apply this in order to inform successful product feature development and strategic business solutions.
Functional Neuroanatomy
Functional neuroanatomy is becoming an important area of study for the clinical practice of neurosurgery, neurology, neuroradiology and psychiatry. This 6-week course will provide you with the knowledge to identify brain and spinal cord pathology and the associated clinical signs in patients.
Product-Technology Roadmapping
Gain the key principles and understanding required for developing roadmaps for effective technology and product planning with the Institute for Manufacturing in this 6-week course.
Control Engineering
Learn how to design and analyse control solutions, becoming familiar with modern software tools for modelling, simulation and analysis in this 8-week course.
Cambridge Advance Online is our first programme of activity and we plan for this to be an integral first step in becoming a pillar of online education that complements our prestigious residential programme. We are committed to quality education and supporting an inclusive environment for all people – at every stage of life and in all corners of the globe.
More Information:
Explore our full range of courses here: advanceonline.cam.ac.uk
* OECD "The State of Higher Education" (2021), WEF "The COVID-19 Pandemic has changed Education forever" (2020), HolonIQ "$16.1B of Global EdTech Venture Capital in 2020" (2021)