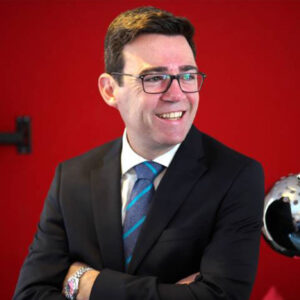 Mayor of Greater Manchester, Andy Burnham, here sets out his 10-year plan for 'Our Network', his vision for a London-style, accessible and affordable public transport system incorporating rail, walking and cycling networks working together for the benefit of the region's people and businesses.
First the good news: Greater Manchester is growing. Over the next 20 years it is estimated our region's population will reach three million – and we will have created nearly 200,000 new jobs by 2035.
That means more homes, offices and whole communities will have to be built. And that, of course, means more journeys will be made. In fact, it is estimated that in 15 years' time we will be making 600,000 more journeys in Greater Manchester every day. To deliver this – while also meeting our commitments around carbon reduction and air pollution – we need to radically transform our public transport systems and cycling and walking provision.
Why do we need to do this? Because for too long public transport in Greater Manchester has been fragmented, unreliable, expensive and confusing. Passengers changing between tram, train and bus have to buy multiple tickets from multiple companies and there is no coordination between services.
For the people of Greater Manchester, especially in less well-off areas, this prevents them from benefitting from the growth we have seen and getting to the jobs and services they need. For Greater Manchester as a whole, it leads to overreliance on private cars, driving up congestion and pollution and prevents us from achieving our economic potential. In fact, it is estimated that congestion alone costs the city-region £1.3bn each year and that air pollution contributes to 1,200 premature deaths.
This has to change.
That is why, earlier this year, I launched Our Network, Greater Manchester's ten-year plan to deliver an integrated, modern and accessible public transport system. It will allow people to change easily between different modes of transport; with simple affordable ticketing and an aspiration for a multi-modal fare cap. It will include orbital routes that allow people to travel around the city-region, as well as in and out of the city centre. Cycling and walking and bus will be the first choice for short trips, with interchanges and transport hubs enabling people to easily transfer to tram or train for longer journeys.
Currently, Greater Manchester has the greatest level of control of Metrolink, which is owned by Transport for Greater Manchester (TfGM). It is also the most successful element of our city-region's public transport system, growing from a single line in 1992 to the largest light rail network in the UK today, with 93 stops and 44m journeys every year.
Our Network will be underpinned by Metrolink's guiding principles:
Convenient: Reliable and regular services.
Affordable: Integrated fares and ticketing across bus, rail, tram and bike hire.
Sustainable: Zero emissions and powered by renewable energy.
Accessible: Fully accessible to all residents both at stops and on transport modes.
Accountable: Run for the people of GM and locally accountable.
Our Network was launched with an animated map that illustrated how the separate parts of Greater Manchester's currently siloed transport networks could work together as a cohesive whole. It also included a list of the projects and policies that need to be completed over the next decade to deliver this ambitious vision.
One absolutely critical element is bus reform. Currently Greater Manchester's buses are run by private companies, this means they can set the routes, timetables and ticketing and there is no overall coordination of the network. A single ticket across London is capped at £1.50, in Greater Manchester it can cost £4. Something is seriously wrong when it's cheaper to catch a taxi than take a bus. The time has come for radical change. That is why our city-region is the first in the country to use the powers under the Bus Services Act 2017 to explore different options to run our bus market.
For the past two years TfGM have been producing an assessment into the future of Greater Manchester's bus market. In June it was announced that this assessment had been completed and that it recommends the introduction of bus franchising, similar to the system in London, across the whole of Greater Manchester.
Alongside this we announced a range of other projects and policies we need to implement, including: a new GM-wide bike hire scheme; the trial of free bus travel for 16-to-18 year olds; the opening of the Trafford Park Metrolink line in early 2020; 27 new trams; increased Park & Ride across the Metrolink network; further Metrolink expansion; tram-train pathfinder projects and a prospectus on the future of Greater Manchester's rail network.
And we have already made important progress. In January this year we introduced fare zones on Metrolink, radically simplifying the ticketing, and in July we introduced contactless, enabling passengers to touch-on and touch-off the tram network. But to do everything outlined in Our Network, we will need further capital and revenue funding from government and the necessary powers, devolved down to the city-region level, so we can make the decisions we need.
A key part of this is our road network. We are currently working with central government to gain powers over moving traffic offences. Currently enforcement of such offences, like blocking yellow box junctions, bus lane contraventions and prohibited turns, lies with the police. We want TfGM and the ten local highway authorities to be also granted this power, like in London. This should ensure traffic flows better, cutting congestion and speeding up journey times.
The new prime minister has made some promising announcements around the funding of a high-speed rail line between Manchester and Leeds and bus reform and we will be holding him to his promises. But intra-city transport is just as important and inter-city transport. In its 2018 report the National Infrastructure Commission reported that cities outside London needed £43bn investment. We have calculated that, over the next 20 years, Greater Manchester needs £3bn of this.
If this new government is serious about closing the North-South divide, a critical step forward will be empowering us with the necessary powers and funding to improve our transport. I will be making this case strongly in the next Spending Review on behalf of the people and businesses of Greater Manchester.
Further information: