OPEX Business Machines GmbH is a recognised global technology leader in document imaging and high-speed mailroom automation. Andrew Smith, Business Development Manager for UK&I Public Sector explains how their solutions are helping the NHS and wider public sector achieve digital transformation.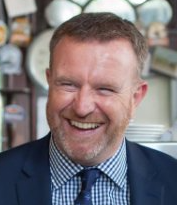 It's fair to say that the road to a paperless NHS has not been a smooth ride to date, with the end not yet in sight! In 2013 Jeremy Hunt first set the NHS's objective for becoming paperless by 2018, a target later extended to 2020. The 2016 Wachter review of NHS IT said 'paperless' by 2018 was unachievable, suggesting 2023 as a more realistic target. More recent reports predict greater caution – with 2027 seeming more likely for an achievable paperless systems. In reality, a 10-year window to achieve 100% digital transformation across the NHS may still be ambitious!
The challenge for today's decision-makers, clinicians and managers across both the NHS and wider UK public sector continues to demand greater savings, whilst simultaneously offering BAU and improving the 'customer' experience – whilst transitioning legacy working practices and people into a newly enabled digital working environment. In short, 'doing more – with less', using technology as an enabler, whilst not dropping the ball in the process!
Going 'digital' is all well and good, but what does that actually mean – and what are the genuine benefits in doing so? 'Doing more, with less' is a phrase that's been common for many years across UK public sector, but never more relevant than today's world. Public Sector bodies need to simultaneously reduce spending, whilst improving services to end-users, citizens and employees through the introduction of smarter digital working practices. It IS achievable, and the gauntlet has been thrown down for all areas of the NHS and wider UK Government to embrace the digital challenge.
OPEX is fast becoming the dominant force in digital conversion of 'legacy' archives and 'day forward' hard copy patient medical record files, seeing NHS and UK service providers selecting OPEX Falcon as the scanner of choice for capturing patient files. We work with dozens of NHS trusts across the UK to enable scanning and transformation of hard-copy medical records into structured digital content, for onward ingestion into EPR systems.
Across the UK and Ireland, OPEX has over 180 machines directly responsible for creating an estimated 2 Billion Medical Records images per year output, through both NHS Trusts and business process outsourcers.
NHS hospitals themselves realise the labour-saving benefits achieved through deploying OPEX Falcon, seeing as over 25 trusts and health boards are already adopting the model as their preferred solution, deploying their own records management staff to deliver the day-to-day service.
OPEX provides state-of-the-art document imaging platforms and high-speed mailroom automation technologies. Our innovative 'one-touch' scanning approach significantly increases customers processing speeds whilst transforming workflow efficiency and reducing arduous document preparation. By creating a unique solution that's significantly different to all other hardware manufacturers in this space, we have identified and solved the key issues surrounding this monumental task faced by an already overstretched NHS.
Seeing IS believing – so please contact the UK&I team via Paul Finch at pfinch@opex.com to discuss your specific challenges and requirements, and arrange a demonstration of OPEX Falcon.
Further information:
www.opex.com/products/falcon